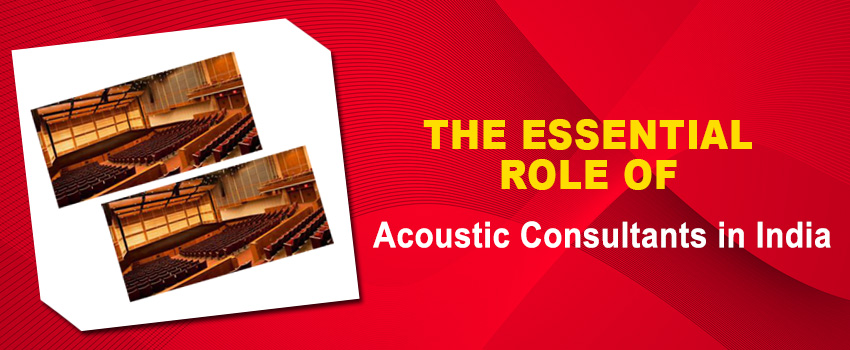 Our everyday lives depend on sound in one way or another. Sound can affect our emotions, productivity, and general well-being, whether it's the calming melody of a favourite song, the buzz of city traffic, or the soft rustling of leaves in a peaceful park.


The control of sound, or acoustics, is especially important in a nation as varied and vibrant as India. Acoustic Consultant in India fills a crucial function in influencing our acoustic environment in this situation.



Understanding Acoustics
Understanding what acoustics includes is crucial before getting into the role of Acoustic Consultant in India. The study of sound's creation, propagation, and consequences is covered in the field of acoustics.


It covers a wide range of functions, including architectural acoustics (creating rooms with the best possible sound quality), noise management (reducing unwelcome noise pollution), and sound system design (producing crystal-clear, evenly-balanced music in varied contexts).



Why Acoustics Matter in India
India is a country renowned for its incredibly diverse cultures, which harmoniously blend traditional and contemporary aspects.


This variety is reflected in the acoustic environment as well, as noises from urban commotion and contemporary technology coexist with those from traditional music, busy marketplaces, and religious events. This complex soundscape emphasises the necessity for professional advice in successfully controlling acoustics.



The Role of Acoustic Consultants
Professionals with training in sound manipulation and understanding are known as acoustic consultants. They play a variety of vital and varied functions in India.


● Architectural Acoustics:

Acoustic experts are essential in designing locations that maximise sound quality in a nation where large auditoriums, religious buildings, and outdoor venues are commonplace. To design spaces ideal for music, speech, or worship, they take into account elements such as reverberation, absorption, and diffusion.


● Environmental Noise Control:

Noise pollution has risen as a result of India's rapid urbanisation. By identifying the sources of noise, suggesting noise barriers, and suggesting sound insulation techniques, acoustic consultants attempt to mitigate this and maintain quiet in both home and business settings.


● Industrial Noise Control:

Noise from industrial operations is an issue in light of the expanding manufacturing industry. Indian acoustic consultants assist businesses in adhering to noise restrictions, minimising the effect on employees and surrounding neighbourhoods.


● Sound System Design:

Crystal-clear, well-balanced audio is essential in the hospitality and entertainment industries. To guarantee an immersive listening experience, acoustic consultants build and tune sound systems for theatres, clubs, hotels, and other venues.


● Research and Development:

Specialised acoustics are frequently needed to accommodate India's unique musical traditions. Research initiatives to conserve and improve traditional musical environments and instruments may involve consultants.


● Compliance and Restrictions:

An important aspect of an acoustic consultant's work is keeping up with India's changing noise restrictions. They make sure that projects follow the law, assisting firms in avoiding fines and disputes with neighbours.


In conclusion, acoustic consultants in India have a major duty to uphold in a country where sound has a significant impact on culture, spirituality, and daily life. They influence the acoustic environment to make sure that the noises we hear add to rather than take away from our experiences.


The knowledge of acoustic consultants will only be increasingly important as India develops and diversifies if it is to keep everyone's aural environment peaceful.